Providing a Range of
Commercial & Residential Electrical Services
We provide assessments and can supply coc certificates in the case of you selling your home.
Abacas Solutions can present you with qualified electricians who make certain that repair or installation is from the finest quality.
Air-conditioner Installation
Pay as you go Installments
Outdoor & Security Lighting
24 hr Emergency Electrician
More info on our services
Our intention is to give a reliable and helpful electrical service to the residents in Somerset West. We cater for various electrical demands and so are dedicated in aiding the local community.
Abacas Solutions is a local family run business and we will endeavour to get the job done swiftly. Whether or not your job is business or residential, for an electrical compliance certificate we are going to ensure the task is done properly first time! A project is not complete till we have attentively verified all our work to be sure you really are a happy customers!
Call us 24 / 7 for any electrical help and advice, abacas solutions the local helpful electrician. You will get no pressure, sales pitches or up-selling.
If you are searching to get a experienced and reputable electrical contractor in Somerset West, Cape Town, then you should call up Abacas Solutions right now!
No matter what your desire, just let our licensed, qualified and experienced techs sort out your business or household electric maintenance. Somerset West is completely safe with most knowledgeable domestic electrician.
We provide electrical assessments and can supply electric compliance certificates in the eventuality of you reselling your premises. Having around 20 years' experience being an electrician, Abacas Solutions electrical services is dedicated to supplying an extensive domestic, commercial and industrial electrical service to just about all residents all through Cape Town. Together with our major focus on client satisfaction, safety and reliability, Abacas Solutions supply you with competent electricians who ensure your repair or installation is of the finest standard.
We provide you with the subsequent electrical services:
• Electrical Inspections for certificates
• Electrical repair
• Restoring practically all property cabling issues
• Fault-reporting
• Prepay Installments
• Outdoor & Security Lighting
• Aircon Installation
• Normal electrical servicing
• 24hr electrician
• Business, Industrial & Household Electrical Servicing
Emergency 24 Hour Electric Cape Town
High standard workmanship, prompt customer satisfaction, and reasonable electrical prices have earned our electrician company's success and helped us grow our electrical contracting services in Cape Town.
24 Hour Electrician in Somerset West also provides electrical tests for Electrical Certificates of Authorisation, such as electrical wiring certificates, electrical safety certificates, and Landlord Electrical Certificates necessary for the lease and sale of residential and other assets.
24 Hour Electrician in Somerset West is eligible for any electrical construction, electrical repair or maintenance needs in Cape Town, and with us, you will be assured that you have an experienced and well-qualified electrician to solve the problem.
Show More
Emergency 24 Hour Electric Cape Town
We have a 24-hour Cape Town electrical service for electricians and emergency electrical staff.
We have all been in an awkward situation where a persistent power failure, a full power outage caused by a leaking fuse box, left us in the dark. It's extremely traumatic for the whole family to be left helpless, particularly during hours of darkness or at the weekend.
And who do you call when the average electrical contractors in Cape Town are closed down? Abacas Solutions! Give us a call about all the usual circuit board errors, fuse boxes, power supply wires, blackouts, and technical emergencies. There is no electrical rescue work that is too big or too small for us.
Employ trained electricians to do professional electrical work.
Our certified and qualifying residential electrical facilities are the best for electrical modifications to new or renovated Cape Town homes. 24 Hour Electrician in Somerset West carries out a large range of repair devices, electrical panels, circuit breakers, lighting fixtures, control points, switchboards, stoves, power fails, etc.
Your Cape Town Electric will serve a broad range of new or established residences, enterprises, complexes, or all other residential electrical needs in all regions (no job too big or too small). See our home page on electricity for more details.
Cape Town Commercial Electric
24 Hour Electrician in Somerset West electrical consumer or business facilities refer to current electrical output, processing, or retail requirements. Office contracts for electrical and company maintenance and long-term activities that can retain an office or corporation in order to survive. For further info, see our corporate electrical services article.
Quality assurance
Headquarters is strategically situated in Cape Town with employment in Northern and Southern Suburbs. The best-quality 24-hour electric Cape Town calls to all parts of Cape Town. All electrical work is conducted with professional materials by qualified electricians. We pride ourselves on the excellence of activity and the value of capital for electrical services.
Abacas Solutions is a business that offers only the finest electrical facilities to homes and businesses in Cape Town. Our company provides advanced diagnostics of faults and/or instructions on and implementation of new electrical wire installations.
Whatever the requirements might be for a building electrician, electrical repair, or maintenance electrician, we are the electrical contractors for work in Cape Town, and with us, you can be assured that you have an experienced and highly skilled electrician to solve the problem. We're the emergency electrical worker in Cape City. We have a 24-hour Electric Cape Town for call-outs and emergency electrical contractors.
When the job is done, you should be confident that you have used a Licensed Electrical Contractor to do your electrical work at your home.
We're One Of The Better Electrical Companies In Cape City.
24 Hour Electrician in Somerset West trained electricians at Abacas Solutions are well equipped to provide excellent electrical services. We are pleased to provide electrical maintenance services in Cape Town. Wherever and wherever possible, our team of trained electrical technicians is here to provide our services.
Our electricians are qualified to render large power station installations as easy as a wall socket in your house. In addition, our electricians are senior practitioners with experience in electrical rewiring, maintenance, electrical shielding, air conditioning, 24-hour electricians, CoC licenses, and master electricians' names. Our electricians are leading experts in the finest business that South Africa has to sell.
Show More
We're 24 Hour Licensed Production, Industry, and Residential Electricians here at Abacas Solutions Cape Town who handle all the electrical activities for your home, garage, shopping centers, and more. Whether you are looking for electrical repairs or electrical installations, you can contact us at any moment, day or night, 24/7.
Electrical Contractors Cape Town Can Depend On 
Our 24-hour electricians will diagnose electrical faults at the most reasonable price and recommend the best available solution. In order to avoid the impending catastrophe and to waste scarce time and commitment, our workers should get the electrical appliances up and running without issues. We are available day and night to provide you with the latest professional advice and workmanship. Our staff is qualified electrical specialists, and our primary concern is your health, so do not take the chance of fixing it yourself, call us, and we will provide you with the utmost care and protection.
24 Hour Electrician in Somerset West sells emergency electricians in Cape Town for home appliances as well as office and commercial electrical systems. Home lighting, repair of electrical equipment, as well as the installation of modern electrical wiring and appliances are ready for usage in our 24-hour Cape Town Electric. For 2-stage and 3-stage networks, problem-solving of earth leakage and power-tripping issues is a breeze with our professional workers, who use state-of-the-art technologies to quickly locate where electrical problems occur. The most widely encountered materials, including electrical trip switches, cables, and wiring, are still carried by our electricians, guaranteeing fewer call-outs and faster processing times.
Your electrician from Cape Town on request
Our technical personnel is trained to conduct all aspects of site visits, courteous and respectful, efficient and attentive, ensuring that the client environment in which we work is granted the least amount of discomfort and due consideration. To ensure the high standard of our workmanship is upheld, we accept feedback from all our customers.
Our trained and enthusiastic team has expertise in industrial electrical installations and repairs in the Cape Peninsula. On request, we will provide assistance, whether for electrical diagnostics or for urgent electrical repairs on refrigerators, for three-phase control appliances.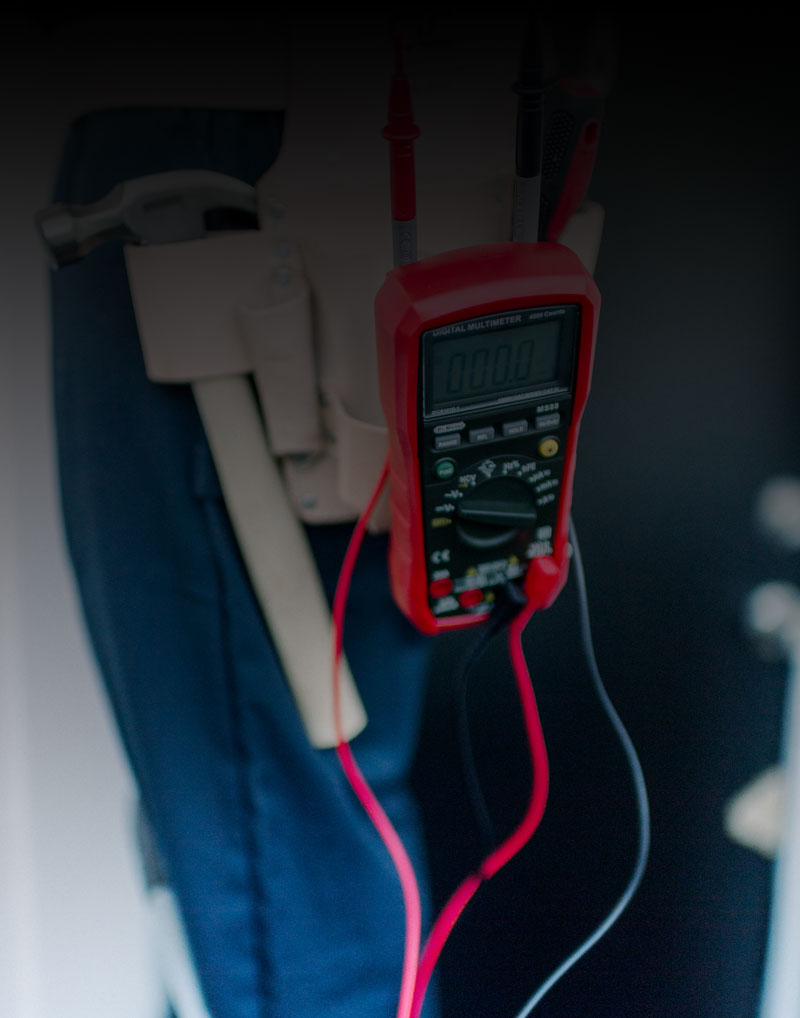 About Us & Why We are
The Best For the Job
We've got over 20 years experience within the business and all our tasks are finished with the most care, with our primary focus on client satisfaction, safety and reliability.
Abacas electrical most helpful call Vincent for any electrical problem help me many times Thanks Vincent and team!
Your company is truly upstanding and is behind its service 100%. I will recommend you to all my friends and family. Thank you! 🙂