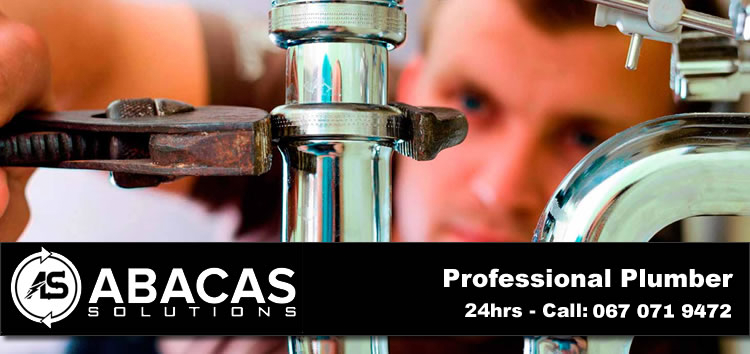 As a homeowner be it of a residential or commercial building, you have to be always prepared to handle a lot of home related issues most of which require your immediate response. Home plumbing, in particular, is an activity that will need close monitoring right from when a building is constructed to up to date. Trust me, you do not want to be a victim of plumbing defects; they are not only a risk to your health and those of your loved ones but can also cause you huge losses if the issue is not rectified on time. However, for a home to have an efficient and reliable plumbing system, it's highly recommended that only a professional plumber is hired to do the job. Unfortunately, professional Edgemead Plumbers are very hard these days, but if you lucky enough to have Abacas Solutions doing the service for you; that should be least of your problems.
What are some of the Services Offered by Abacas Solutions?
Well, before you decide on which plumber to hire, there are a number of factors that you have to consider and the range and types of service offered is one primary consideration. You have to be very sure that the company will be capable of providing the plumbing services that you want. Some of the indicators to look out for are the resources that a company has, the reputation of the company, availability of professional plumbers among other factors. Abacas Solutions not only offer a wide range of plumbing services but also make sure the quality of services provided is of the right standards.So what are some of these services?
Cleaning and unclogging home drainage system: This happens to be one of the common plumbing problems that will always come up once in a while. If you have had a clogged drainage system in the past, then you can bear witness that it's one of the most irritating experience for a home owner as it not only interferes with your hygiene but also ties your hand as it is very little you can do with the entire plumbing system if the drainage is clogged. Luckily, we are well equipped to deal with such a nuisance.
Detection of a leaking problem and repairing burst pipes: If you happen to be living in a big house or an apartment, detecting a leaking process can be very difficult. We all know how dangerous leaking pipes can be as they can not only wet the house walls making them weak and health hazard but if not noted on time can cause a lot of loss in the long run. However, Abacas Solutions are perfectly aware of such conditions and that the reason they have invested in modern facilities that can easily detect such defects.
Other services that we offer include unblocking clogged toilets and sinks, repairing the water heaters, cleaning the septic tanks, sewer cleanouts and the list is endless. Luckily our services are very affordable and they are just a phone call away which means that you can always seek clarification for any plumbing services and be sure to get a conclusive feedback. Alternatively, you can always visit our website and get to learn more about the services they offer, the mode of services delivery and any other information you may need on Edgemead Plumber. For the residents of Edgemead and its environs, feel free to visit the company at any time, and our staff will be more than willing to help you out!
Geyser Installation, Repair and Maintenance
Having to deal with geyser challenges within your Edgemead home? Take it easy, Abacas Solutions has got your back as well. Being Edgemead plumbing contractors together with 20 years practical experience, we know the process of hot water cylinder installment, repair and maintenance.
Ones water supply is certainly something that nobody will want to fool around with. It's something which exclusively experts must take care of, knowing that there is always a few threats that accompany the job. No matter if it's problematic appliances, new hot water cylinders as well as routine upkeep work, Abacas Solutions will be sending an expert.
Furthermore we cover the common plumbing remedies such as blocked drain inspections, leak detecting, drain unblocking, geyser installs plus repair, 100 % business plumbing requirement additionally the connection of water mains Abacas Solutions really is a company that addresses every scenario. Give us a call asap on < 067 0719 472 to learn more, to reserve a date or to get yourself a price for the remedies. See Edgmead Property For Sale and read more about Edgmead here.